Q: Hi John, tell us a bit about yourself?
A: I studied fine art at NCAD Dublin.
I've lived and worked in Dublin, London, Sydney and Hong Kong, before settling in Barcelona. I also write children's books.​​​​​​​
Q: What did you want to be when you were growing up?
A: From a young age, I wanted to be an illustrator/cartoonist. Book and album covers were an endless source of inspiration for me. My heroes were Ralph Steadman, Mervyn Peake, John Tenniel, Brian Froud, Frank Frazetta, Roger Dean… the list goes on.
Q: Why did you become an illustrator?
A: I never wanted a 'real' job. Drawing was what I loved. I don't remember anyone pointing out to me benefits of stable employment, such as pension plans or health insurance. If they had I would certainly have ignored them.
Q: How has your upbringing/environment influenced or shaped your illustration?
A: I've traveled a fair bit and worked in different cultures and situations. Each has had an influence on the way I work. Sometimes this influence is evident; much of it is absorbed into my general approach. It gives me a lot of flavours to choose from.
an oil portrait of Countess Markievicz for the Irish Independent.

Q: What kind of illustration projects are you most interested in?
A: Any that I haven't tried yet. I'm working on populating the packaging design corner of my portfolio a bit more. I enjoy combining the disciplines required for this kind of project. I've also done some theatre posters recently. There's great potential for conceptual trickery in these, and a large canvas on which to exercise it.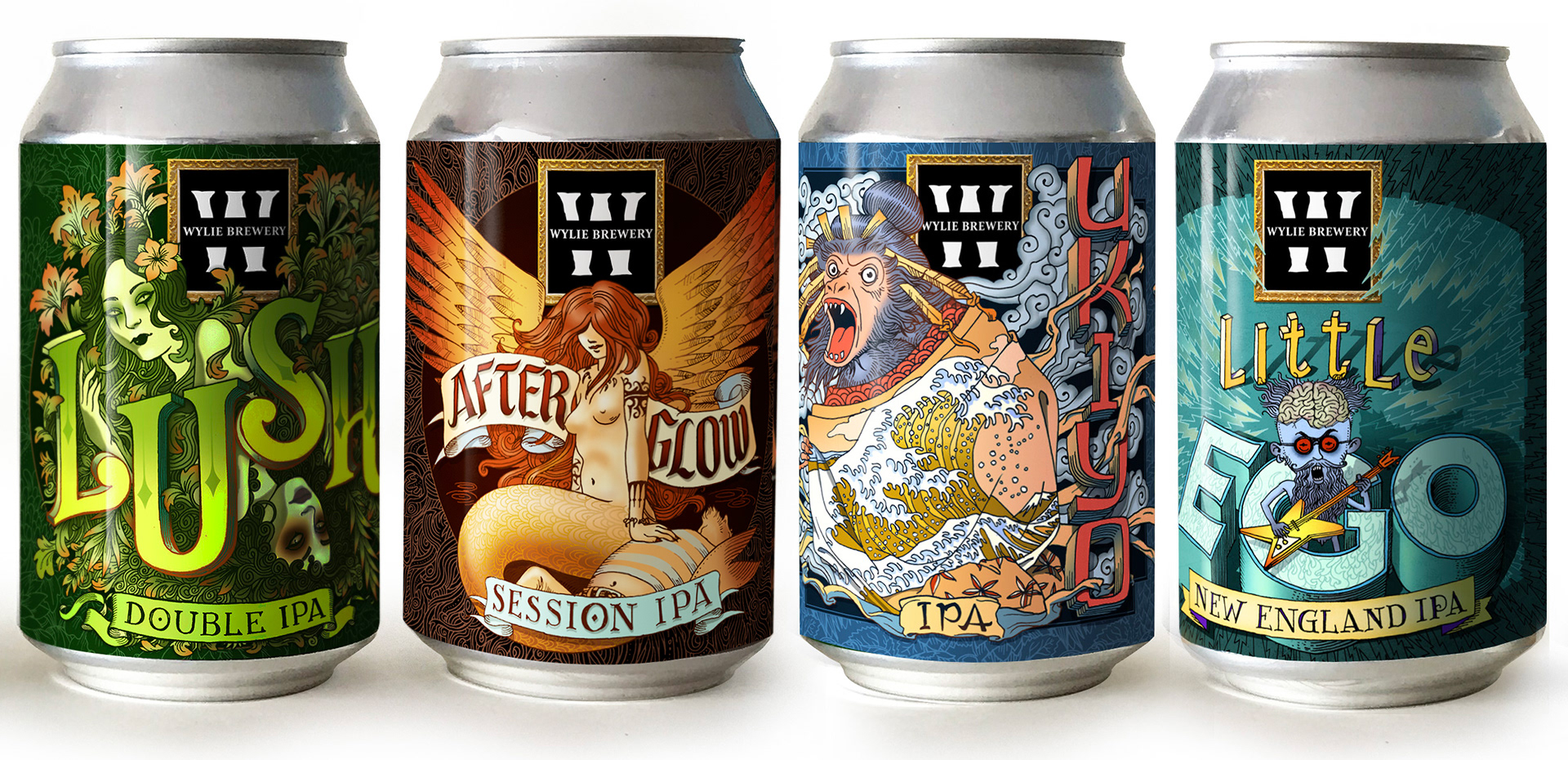 This is a series of labels for award-winning craft beers by Wylie Brewery, Sitges. 

Q: What do you think makes a good illustrator?
A: Experimentation and curiosity. Good people skills are at least as important as technical proficiency. I would advise young Illustrators not to obsess about developing a style. Do what you enjoy, and your style will take care of itself.
An illustration from the beginning of your career - this is a double-page spread on fake merchandise, for the Sydney Morning Herald, probably 1989.

Q: What was your first ever commissioned illustration?
A: An eccentric gent named Jack Macavity approached me at a group exhibition when I was in my early teens. He had an idea for a humor magazine featuring his own cartoon ideas. He supplied me over a number of weeks with a series of bizarre and almost illegible one-liners, which I did my best to render into drawings at a fiver apiece. Then he disappeared, leaving me with a small pile of crumpled banknotes and some valuable experience in committing crazy to paper.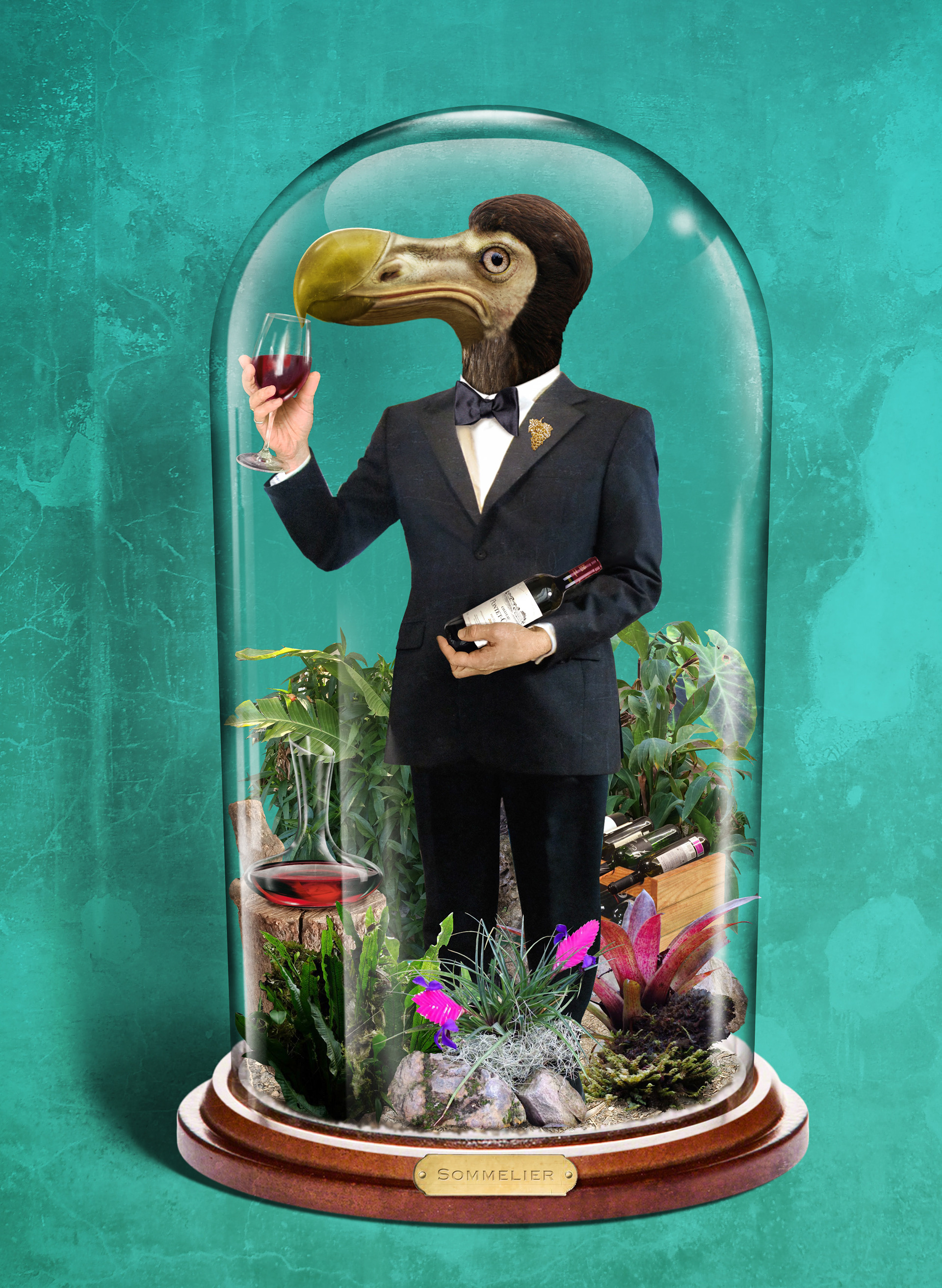 Dodo Sommelier. This was an illustration for Imbibe magazine. Apparently sommeliers are in danger of extinction.

Q: Explain how you work?
A: I always begin with a pencil. I used to produce dozens of sketches to arrive at a concept. Over the years some of that process has been internalised, but the pencil is still the starting motor. I work in a number of styles and media, so the look of the finished artwork will be determined by the nature of the brief, and by the preference of the client if they have one.

Nowhere to Hide. This was a cover for the Economist, art directed by Graeme James. It has won a couple of awards.

Q: What tools do you use? 
A: I like digital media for its tolerance. You can revise an image indefinitely without worrying about overworking the surface. Acrylics allow the same, but to a lesser extent. I enjoy them also for the intensity of colour. Recently I've returned to working in pencil much more. I abandoned gouache many years ago, but having followed Bill Mayer's eerie and astonishing little gouache paintings for a while I may give it another try. Oils are a luxury I enjoy when the deadline permits it.

Ditching the Dog Whistle. Unusually for an Economist cover this ran without a headline, which I took as a compliment. 

It was produced in the wake of Trump's comments about the Charlottesville incident, and featured heavily on US news networks and in the international media, along with David Plunkert's New Yorker cover and Edel Rodriguez's cover for Time magazine. 

Q: What are three things you've learned while working as an illustrator?
1. Work hard. 
2. Enjoy yourself. 
3. Never whinge at a client.

Mark Zuckerbook, commissioned for Insight magazine back when he was considered a harmless (if obscenely wealthy) nerd, and Facebook an entirely benign entity.

Q: What area of illustration do you specialise in/enjoy?
A: I work mostly in editorial illustration. I aim for a strong concept and a dash of wit. A lot of my work features portraits or caricatures. The endless variety in human faces fascinates me. I've done thousands of portraits, and each one is a new experience.
I've worked on some major ad campaigns, and am currently doing some very illustrative packaging design for a microbrewery. This is a nice change of pace, and the product research is not onerous.
Queen Theresa. A cover on delusions of grandeur, for the New Statesman.

Q: What would be your dream (illustration) job/commission?
I fancy being let loose on a big mural.

This is my studio. Not exactly tidy, but it's been worse.

Q: What does your studio/workplace look like? (Would love to see a photo :)
A: There's a tidal effect to the drifts of paperwork, used art materials and general bric-a-brac that wash around my studio. At the moment I'm typing on a clear desk, but that's a rare occurrence, and the tide will soon come in again. We've all seen photos of illustrators' immaculate studios, with neatly ordered shelves of ephemera. I'm convinced these are snapped after days of careful tidying. My studio is more Bacon than Zen, and I suspect I'm not alone.